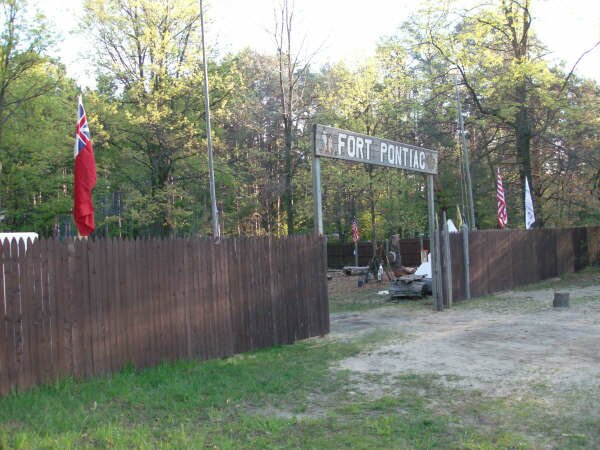 The FORT Training Programs Page contians more details about the training programs.
The Chief Pontiac Programs Committee has built a living history theme area at Camp Agawam called Fort Pontiac.
It is located near the activities field.
There is a blacksmith shelter with a traditional 3 board bellows. There is also a carpentry shoppe and Brick Bake Oven.
The fort is available to rent like any other camp site or building, except on the weekends that the CPT is hosting themed events there. At those times the fort will be a center of living history activity. Units can camp at other sites in Camp Agawam and visit the Fort to take part in the activities (like a miniature Williamsburg)
If a unit has rented the Fort as a camp site and would like to use the Fort amenities during their stay at Fort Pontiac they must make arrangements to do so with the Chief Pontiac Trail Committee well in advance, so a volunteer from the committee can be scheduled to work with the unit at the Fort.
Future Plans
The Chief Pontiac Trail Committee plans to continue development inside and around the Fort to create a unique living history themed campsite. Imediate plans call for moving the Adirondak Shelter to the area near the main gateway into the Fort and reconfiguring it to house a fiber arts area. This will house a floor loom and several other weaving and spinning related activities.
The Cooking area will be updated to include a storage shed for the kitchen items, that are currently stored in the oven shelter. This will have shelves for storage of food items and coolers while the fort is in use. The existing fold down prep area that is currently attached to the Adirondak will be moved to the outside of the new storage shed.
Other Future additions that have been discussed may include a meeting shelter designed to give the appearance of a colonial era meeting hall for chapel services or courts of honor, or corner block houses designed to shelter a patrol sized group.
Scheduled Events
The Chief Pontiac Trail intends to host occasional themed events at the Fort. These events will typically be scheduled on the 3rd weekend of the month.
The FORT Training Programs Page contains more details about the training programs.
Contact Us
Please send your questions or comments about the FORT programs to
In addition to this web site there is also a Fort Pontiac Facebook group, and a Google Group. Check us out in these other web forums to see what others have to say about the programs and to see some photo's of past activities in the Fort.
| | | |
| --- | --- | --- |
| Dates | Program | Details |
| Mar 16 - 18 2012 | Fort Pontiac Spring Cleanup | This weekend the Fort Staff will be cleaning up the Fort and getting ready for a new season of living history activities. If you would like to earn some service hours toward the Fort Pontiac Challenge Award, this is a great opportunity. Raking leaves cleaning out the store rooms, sharpening the tools. Painting and repairing any broken sections of fence. Please contact the Fort to let us know that you would like to help. |
| Apr 21 2012 | Agawam Mix-Fix / Fort Improvemts | Annual camp wide maintenance day. The Fort staff will be working on improvements to Fort Pontiac |
| May 4 - 6 2012 | FORT Pioneer Skills and Blacksmithing Training | Training for adults. See the FORT Training Web Page Down load the Flier , Pre-Course Information or Register |
| Jun 16 - 17 2012 | Fort Challenge Weekend | Weekend focused on Venturing Outdoor Living History Elective and the Fort Challenge patch for scout units that are camping at Agawam during this weekend. See the Web Page |
| Aug 18 - 19 2012 | Fort Challenge Weekend | Weekend focused on Venturing Outdoor Living History Elective and the Fort Challenge patch for scout units that are camping at Agawam during this weekend. See the Web Page |
| Sep 14 - 16 2012 | FORT Pioneer Skills and Blacksmithing Training | Training for adults. See the FORT Training Web Page Down load the Flier, Pre-Course Information, or Register |
| Oct 20 2012 | Trailblazer Adventure Day | Outdoor event for youth in cooperation with the U.S. Sportsmans Alliance. See the Web Page - Flier |
| Nov 17 2012 | Fort Pontiac Thanksgiving | A pot luck and fellowship for everyone that spent time in the fort this year. Come join us for period games and food. Bring a dish to pass. |
---
---

Changes last made on: Dec 28,2011