James West Fellowship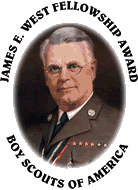 An integral part of the Great Lakes Council's strategic plan is to expand the Council's Endowment Trust fund to ensure our future financial stability. To help accomplish that, the council continues its promotion of the James E. West Fellowship. This fellowship award, named after the first Chief Scout Executive of the Boy Scouts of America, is a national recognition for those who contribute $1,000 or more in cash or securities to the local Council Endowment fund. Each donor will be recognized with a personalized 8 by 10 inch certificate, distinctive lapel pin/charm and an embroidered square knot.
In support of local council endowment gifts, the Central Region Is introducing a NEW special recognition program for James E. West gifts between the entry-level Fellowship and the 1910 Society.
The NEW levels are:
Fellowship $1,000 Gold $10,000
Silver $5,000 Diamond $15,000
Information and applications are available from Norm Bateman, Chairman of the Council's James E. West Committee, from a District James E. West Chairman, or by calling Chuck Lang, Development Director, at (
Fellowship Members
| | | | |
| --- | --- | --- | --- |
| Ellen Adams | John Farley | Charles Largent | Harold S. Ross |
| William "Tony" Adams | Timothy Fino | Clinton D. Lauer | Isobel Ross |
| Nicola Antakli | William R. Fischer | Bernard Leahy | Erik Rosvold |
| Virginia Antakli | Kurt Fobare | Perry T. Leong | June Rosvold |
| Hon. Michael J. Anuta | Mark Fobare | Carrol Lewis | Karl Rosvold |
| David Arnesen | Harry Foehringer | Dwight Lewis | Fred Rosvold ~S |
| Gerald D. Artman, Jr. | William Fortier | Cynthia K. Link | Susan Russell |
| William Ashley III | Elaine Francis | Thomas Linn | Paul Ruzinsky |
| Austin E. Ball | George Francis, III | Steve Linne | David Sanger |
| Edward Basar | Matthew Franzen | Ronald Lord | John P. Savage |
| Norm Bateman | Matthew Franzen | David Allen Lowe | Midge Savage |
| Sandra Bateman | Matthew J. Franzen III | Roger M. Luksik ~S | Anthony Sayers |
| Brenda N. Beck | Robert J. Freehan | Harold Lundquist | Bruce E. Schmidt |
| Robert Beebe | Cedric Fricke ~G | Michael Magner | Jean Shapero |
| Milton Bell | Gil Fujioka | Bradley J. M. Mali, Sr. | Edward Shea |
| E. Carter Billiu | Jeanne Fujioka | Frank M. Mallon | Norma Shoemaker |
| Richard Bland | Steve Geimer | William Mansfield | Robert Shoemaker |
| Sharon Bledsoe | Jeffrey Geralds | E. Leslie Marhoff | Clysta Simancek |
| Charles Bloch | Amanda Gerber | Richard B. Marsh ~S | Dimitrios Simancek |
| Grady Boatner | Bernard Gerber | Maureen Marshall | Jay Simancek |
| George H. Boettner | David Gerber | Maurice Marshall | Jeffrey Simancek |
| Janina Boettner | Owen Gerber | Carol Martin | Marianne Simancek |
| J. Kenneth Bourgon | Steve Gierak | Jerrold Martin ~D | Bradley M. Simmons |
| Kenneth Bousum | James Grady | Richard Mathews | Ted Simon |
| Alison Bozynski | Laura Grady | Katherine Maxim | Howard Sims |
| David Bozynski | Sue Grady | Dr. W. E. Barry Mayo | Iris Singer |
| Don C. Bramlett | William Grady | Ronald Mazyck | Stan Singer, Jr. |
| Victor L. Brooks | Amos Grissett | William J. McCarley, II | Elwood Sippola |
| Ned Brown | Donald R. Hall | William McCormick | Don Smith |
| Doug Brown | Harold Hanna | Charles McGowen | Houghton Smith |
| Escha Brown | Ed Hansen | Betty McNamer | Kathy Smith |
| Al Brunmeier | Steve Harris | Russell C. McNamer | Martha M. Spenny |
| Catherine A. Buckalew | Daniel Hess | George H. Meyer | Richard Squires |
| David Busse | Gerald Heuer | J. Fred Monroy | Greg Stachura |
| Katherine Busse | Leslie Hinds | Steve Montgomery | Jay Stark ~S |
| 2008 D-Bar-A Camp Staff | David Hinton | Earl Moorhouse | Mark Stephens |
| Jeff Campbell | Sherrie Houghtaling | Michael Morin | Carol Stephenson |
| Bernard J. Cantor | John A. Hovanesian | Robert D. Muller | Hal Stephenson |
| Judith Cantor | Jay Howse | Jesse J. Murdoch | Sam Stocker |
| John J. Carrick, III | Archie F. Huggins | Thomas Murphy | David Strilcov |
| John Carter | William Hughes, Jr. | Thomas Nash | David Stringer |
| Robert Carter | Robert Hunt | Richard Newill | Patricia Stringer |
| Sheri Carter | Kay Hunt | Robert B. Newill | Jeff Stumpf |
| Sue Carter | David Hunter | Robert E. Newill | Robert Sturza |
| Thomas Catlin | John Dyer Hurdon | Stanley E. Newill | Dick Sullivan |
| Don F. Chamberlin ~S | Jacob Huttenlocher | William F. Newill | D-BAR-A Summer Camp |
| John A. Chandler | James Huttenlocher | Vern Newman | Donald Swancutt |
| Thomas Chisholm | Justin Huttenlocher | Harold Oatley | Frederick A. Synk |
| Norbert Chmielarczyk | Warren "Rusty" Hynes | Monte Oberlee | Ray Szpiech |
| Albert C. Christoph | Peter Imbrunone | Ryan Ohanesian | Christopher Szybisty |
| Dale Chronic ~G | Thomas Inch | George Ossman | John Techman |
| Irene F. Church | Warner P. Iseppi | Peter Ossman | Henry Thiele |
| Miles A. Church, Jr. | William (Jay) Jackson IV | Kenneth Oughton | George R.E.A. Thomas |
| Gus Chutorash | Janet Jensen ~S | Kathleen Parker | Jim Tower |
| Frank M. Cleary ~ S | Reuben Jensen ~S | Peter Perlman | Tom Trainor |
| Laverne Cleary ~ S | Michael Jewell | John A. Perry | Yvonne Trainor |
| Joel Clement | Lawrence E. Jeziorski | Larry Phillips | Troop 179 |
| Valarie Clement | Robert Johnson | William E. Phillips, III | Troop 782 |
| Robert Cochrane | Arnold (Dale) Jones | Robert Poole, Jr. | Charles Truza |
| Lynn Collins | James L. Jones | Petter A. Poppe | Margaret Truza |
| John Collins, Jr. | Nancy Jones | Dave Pranger | George Turner |
| Betty Couturier | Brian J. Jordan | James Press | Edmond Ura |
| Bruce Culver | James R. Keller | Harry J. Price | Jack Van Duyn |
| Hon. Walter Cynar | Paul Kemp | Brenda Primrose | William Vance |
| Toni Cynar | Scott Kiefer | John M. Primrose | Cliff Vaughn |
| Al Daisley | Fred E. Kilgus | Sam Prisk | Douglas N. Vincent |
| John Dam, Jr. | Andrew Kliffel | Daniel Putman | Dennis Waitzman |
| Petersen Decker | Brian Kliffel | John Radke | Morella Waitzman |
| Frederick Devendorf | Gregory Kliffel | Don Ray | Richard A. Wallner |
| Orrie C. Donley, Jr. | James Kosiba | Gerald Redoutey | Albert A. Ward |
| Aaron Dorn | Robbart W. Koustaal | Ethan Arthur Rein | Jane Warren |
| G. David Downton | Michael F. Kowalczyk | Robert Reithmiller | Alfred S. Warren, Jr. |
| Gordon Draper | Gloria Krazel | Joe Retzbach | Donald Weinfurther |
| Rick Drummer | Norman Krazel | James "Jay" Richarson | Kenneth Wheeler |
| John Duneske | George Krec | Dr. John Richardson ~G | Chuck Williams |
| Mark Elias | Elmer Krueger | Randy Riggs | Rick Williamson |
| Clayton Elliot | Lester LaBroski | Tom Ritter | Mark D. Wrase |
| Dean Elliot | Ralph W. Lake, Sr. | Michael Rochowiak | Geoffrey Wright |
| Michael J. Everett | Charles Lang | Rev. John Rogers | Barbara Wrigley |
| Dave Every | Frederick W. Lang | G. Scott Romney | Doris Wyckoff |
| Eva Every | Jeff Scott Lang | Bruce Ross | James Zick ~S |
| Detroit Lodge No. 2 F & A.M. | | | Paton Zimmerman |
Bold Names: Newest Members
S – Silver Level
G – Gold Level
D – Diamond Level
District James E. West Chairmen
Chippewa District
Vacant

Mahican District
Maurice Marshall, Miles Church & Irene Church

North Star District
Escha Brown & Barbara Iseppi

Ottawa District
Jay Simancek & John Carter

Pontiac-Manito District
Rick Newill

Renaissance District
Grady Boatner & Milton Bell

Sunrise District
Steve Linne & Dave Busse

Sunset District
Gordon Draper & Don Ray