2013 National Scout Jamboree
Jamboree Links
Application Instructions
(Youth, Adult & Staff)
Jamboree Youth & Leaders

For more information, contact:
Mark Fobare
Jamboree Committee Chair

Duane Schroeder
Jamboree Lead Scoutmaster

Denver Laabs
Jamboree Staff Advisor

Summit Bechtel Family National Scout Reserve
Glen Jean, West Virginia
July 15 - 24, 2013












(Days : Hours : Minutes : Seconds)
Get ready! The 2013 National Scout Jamboree is coming and it ain't your father's jamboree. We're talking seriously high adventure, people! Whitewater rafting, zip-lining, rappelling, mountain biking, hiking, and more - with 50,000 of your closest friends at the brand new Summit Bechtel Reserve in the wilds of West Virginia. Start planning now to be a part of history at the very first jamboree at The Summit.
Will you go to Jamboree, possibly the biggest Scout party in the world?
---
Summit Jamboree Shakedown
The Summit Jamboree Shakedown contingent is full. If you need to make a payment or add your name to the waiting list, please use the buttons below.

Make a payment using an existing registration

Add your name to the waiting list
---
The 2013 National Jamboree is just around the corner!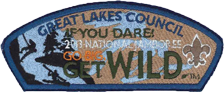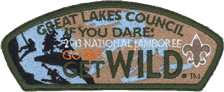 The Great Lakes Council will be sending 324 Boy Scouts and 24 Venture Scouts along with 33 adults to support them. The Jamboree Committee would like to make sure every youth is able to attend and have developed a Campership JSP to help develop the financial resource pool for the Scouts.
Find out more about these Jamboree Campership CSPs HERE.
---
2013 Jamboree Payment and Event Schedule

2011

Oct/Nov
Hold Scoutmaster Selection interviews

2012

February
Second $325 per person deposit due
May
Third $325 per person deposit due
August
Fourth $325 per person deposit due
October
$275 Final per Scout payment
2013
January/February
Training/Shakedown weekend
May
Jamboree Shakedown Weekend
The estimated total cost for the jamboree is $1,500 per Scout, which includes transportation, pre-jamboree tour, T-shirt and other items to be determined later.
---
2013 Jamboree Medical Staff Recruitment
The Medical Services Leadership for the 2013 National Jamboree is now recruiting health care professionals and medical support staff. We are looking for qualified staff for the following positions:
Physician
Physician Assistant
Advance Practice Nurse (NP, CNS)

Nurse
Pharmacist
Paramedic/EMT
Technician/Aide

Biomedical Engineer
Medical Information Technologist
Medical Supply Personnel
Interested individuals should refer to the Medical Staff Recruitment flier for more details and contact information for questions.
---
Progress at The Summit