Religious Activities
Relationships Links
2012 "Walk With God' Hike
Mark your calendars for September 29, 2012 and get your walkin' shoes ready to participate in the "Walk With God' hike!
For more information, contact .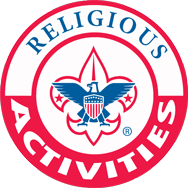 At the heart of the Scouting movement is "Duty To God." The Cub Scout Promise, Boy Scout Oath, and Venturing Oath all stress the importance of reverence toward God.
The Religious Emblems Programs are key spiritual components of the Scouting movement. The programs were created by various religious groups to encourage youth to grow stronger in their faith. These religious groups, not the Boy Scouts of America, have created the religious emblems programs themselves. The BSA has approved these programs and allows the recognition to be worn on the official uniform, but each religious organization develops and administers its own program.
The Great Lakes Council, BSA Religious Relationships Committee extends its gratitude to all adults involved with the spiritual development of our young people.
Religious Relations Committee Purpose
The purpose of the Religious Relationships Committee is to expand the opportunities for children, youth, adults, and families within the community to experience God's love and grace. The committee functions to help interpret and promote the Scouting program in churches' and synagogues and mosques as a resource for their ministries with children, youth, adult, and families.
2012 Closer to God Patch

The Religious Relations Committee in Great Lakes Council has made a significant change in what was the "Scout Sunday" patch program. Beginning in 2012, Scouts and Scouters who attend a religious service at any time during the year in uniform will qualify for this patch. The cost is $2.00 each and patches will be on sale at the Scout centers in Waterford & Detroit, through customer service. Also, each district executive has been issued some to sell at district events & roundtables.

God & Country Medals

Earning The "God & Country" Medal courses will be held on Four Saturdays:

October 20& 27, 2012
November 3 & 10, 2012

From 10:00 - 11:30 a.m. at Faith Lutheran Church/Troy for Grades 2-5 Boys and Girs in Scouting or Campfire Programs.