Eleven-Year-Old Scout Summer Overnighter Program
When:
Cost:
$55.00 per Scout
$45.00 per Adult
Registration
Scouts should sign-up for camp through their 11-Year-Old Scout Leader. Leaders will sign-up their troop/patrol online:

Download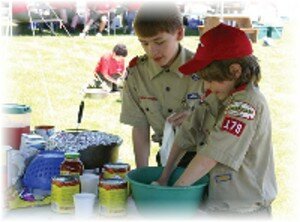 Our Summer Overnighter Program is located at D-bar-A Scout Ranch in Metamora, Michigan (just south of Lapeer). The camp is a working ranch featuring our own herd of horses for riding programs, longhorn
cattle, three lakes and 1700 acres of Scouting paradise.

First Year Scouts will get an opportunity to camp overnight, supervised by their leaders, and work on their trail to First Class. Experienced Camp Staff are on hand to work with the boys in an outdoor setting to teach Scouting skills in a fun and exciting method that includes games and activities that use the skills and reinforce the lessons. Every Scout who attends our 11-Year-Old Scout Summer Overnighter
Program is guaranteed to have a great time and will receive a commemorative patch to remind them of their time at D-bar-A Scout Ranch.
---
Who Can Attend?:

11-Year-Old Scout Summer Camp Overnighter Program is a program designated to fit the unique challenges of the New Scout program found in Scout Troops chartered within the LDS Church; however all New Scouts and New Scout Patrols are welcomed to attend!

Program Areas:

Scout Spirit

TF 6 - To The Colors
TF-7 - Who Am I
TF 8 Who Are We
TF 9 - My Buddy

Nature

TF 11 - Can't Touch This
SC 6 - Wild Thing
FC 6 - Can't See The TreesFor the Forest

First Aid

TF 12a & SC 7a - Help in a Hurry
TF 12 b & Sc 7c - It's Just A Flesh Wound, Once Bitten, Surviving the Elements, & PLay With Fire
FC 8b - Strains and Sprains
FC 8c - Your're Outta Here

Swimming

SC 8a & FC 9a - Safe Swim Defense & Safety Afloat
SC 8b & FC 9b - Water IQ
FC 9c - H2O Survivial
SC 8c & FC 9c - Reach, Throw, Row, Go

Rope Work

TF 4b & FC 7b - All Tied Up
FC 8a - Why Knot

Camping & Hiking

TF 1 & 2 - Shakedown
TF 5 - Hit The Road
TF 3, SC 2g & FC 4d - The Aluminum CHef
SC 1a - Topo the World & True North
FC 1 & 2 - FInding Your Way
Totin' Chip
Firem'n Chit

Key: TF - Tenderfoot | SC - Second Class | FC - First Class

Schedule:

Friday

4:00 p.m. - Check In, Set-up Camp
5:00 p.m. - Dinner
6:15 p.m. - Campwide Flag Ceremony
8:00 p.m. - Wide Area Game
8:30 p.m. - Opening Campfire
10:00 p.m. - Astronomy
11:00 a.m - Lights Out; Personal/Group Reflection

Saturday

7:30 a.m. - Breafast
8:45 a.m. - Campwide Flag Ceremony
9:00 a.m. -Open Program Area
12:00 p.m. - Lunch, Prepared by Scouts
1:00 pm.- Open Program Area
3:00 p.m. - Closing Ceremony
3:30 p.m. -Check-Out

Free Time Programs also include: BB Guns, Archery, and Horseback Riding