Lincoln Pilgrimage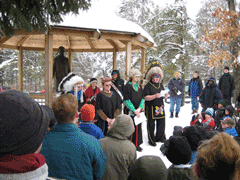 Since 1953, Noquet Lodge 29 has been hosting a day of fun and games for Scouts. This year, the Lincoln Pilgrimage has been redesigned and will be great for youth of all ages. Boy Scout troops, Venturing crews, and Cub Scout packs are all welcome at D-bar-A Scout Ranch for this event. There will be fun, games, and a tribute to one of the greatest American presidents, Abraham Lincoln.
History of the Lincoln Statue & Pilgrimage
The Packard Motor Car Company of Detroit, Michigan acquired one of Alphonso Pelzer's Lincoln Statues in 1914. William H. Mullins presented it to Mr. Henry B. Joy. Mr. Joy was at the time president of the Packard Motor Car Company and also on the Lincoln Highway Association, which had been organized to promote the building of the Lincoln Highway. The initial support for the organization came chiefly from the automobile and accessory manufacturers.
The Lincoln statue was placed in the visitor's lobby Packard Administration Building, where it remained until 1919 when it was placed in storage because of building alterations. It remained in storage, more or less forgotten, until at suggestion of Mr. W. C. Greany, plant protection engineer of the Packard Company and also Scoutmaster of an active Boy Scout troop, the statue was given to the Detroit Area Council, Boy Scouts of America. It was placed in a beautiful setting in the Boy Scout Camp Brady in Waterford, Oakland County, Michigan, and was dedicated as an official Lincoln Pilgrimage Shrine on July 25th 1936.
>>Learn more about the history of the Lincoln Pilgrimage
To learn more about this event, please contact: Adrian Felder, VC Activities
Who Can Attend?

Youth & Adults
Make it a weekend, reserve a campsite at D-bar-A Scout ranch for the weekend!

When & Where:

Saturday, February 11, 2012
9:00 a.m. to 3:00 p.m.
D-bar-A Scout Ranch
880 E. Sutton Road, Metamora

Registration begins at 9:00 a.m. and events will start with an opening ceremony at 9:50 a.m. Lunch will be served from noon to 1:15 p.m. and the afternoon activities will run from 1:15 p.m. to 3:00 p.m.

Cost:

$6.00 includes lunch and a special event patch.

Register: