Cole Canoe Base High Adventure Camp
Apply
Required Forms
More Information
Contact

The Cole Canoe Base High Adventure Summer Program is designed to provide High Adventure opportunities to experienced Scouts and Scouters prepared to handle the demanding schedule and physical requirements of some of the treks. The Unit's Scoutmaster should determine each participants ability to handle the High Adventure activity, and deem them fit to participate. The Cole Canoe Base High Adventure Staff reserves the right to disqualify any participant if not deem physically or emotionally fit enough to have a successful High Adventure Trek.
Cole Canoe Base (CCB) boasts having one of the largest selections of High Adventure programs available to your unit outside of the National High Adventure Bases. Developed over several years, the CCB Tri-River Challenge will not only provide a high level of activity for your unit over several years, but also give your unit honors when it comes to canoeing.
50 Miler Rifle River Canoe Trek
During this trek, your unit will be able to experience 4 days of canoeing on the Rifle River. Starting at Grousehaven Lake, the unit will spend the day paddling before reaching North Land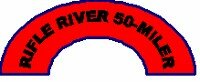 ing for their first night on the river. Here your unit will continue with their trek back to base camp. While at CCB, your unit can refresh their supplies and shower. The next day your unit will continue its paddle before
resting for the night at Riverview Campground, showers are also available. While there, your unit can relax and set up camp for the night after checking in with the main office. The following morning,
your unit will complete its last leg of the trip. It is recommended to start this last leg no later than 8:30 a.m. This will allow your unit to be on the river and arrive at Omer Fishing Site in time
to head back to base camp for the evening activities. At the Friday night campfire, your unit will be recognized as having completed the 50-mile trek.
75 Miler Au Sable Canoe Trek
This trek offers even more of a challenge to those experienced canoeists in your unit. This trek offers more mileage, higher difficulty and more adventure packed into 4 days on the Au Sable River. Your unit will grow and develop as a unit as it is tested on a different river with different currents, challenges, scenery and wildlife. This trip begins just outside the city of Roscommon before ending just outside the city of Mio.
50 Miler Pictured Rocks
In addition to High Adventure canoe treks, CCB offers a 50-mile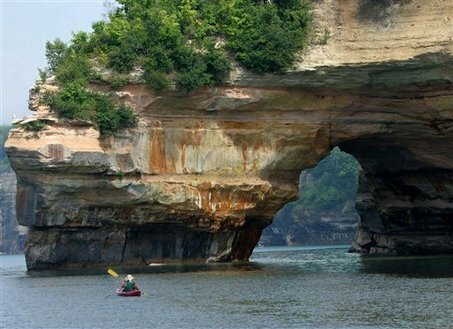 hike along the Pictured Rocks National Lakeshore in Michigan's Upper
Peninsula. This again is a trek that must be planned prior to
your unit's arrival in camp and is dependant upon a tour permit issued
by the National Park Service. The more advanced notice CCB
receives, the greater the chance your unit will be able to obtain a
tour permit. On this trek, your unit will hike 9-11 miles per day and
camp along the shore of Lake Superior. This trek will provide a
great platform for your unit to begin it's venture into High Adventure hiking and camping.
100 Miler Manistique Canoe Trek
Developed to be the most challenging of all our High Adventure River Treks. The 100-miler will test your units ability to work together and survive 5 days on the wild Fox-Manistique Rivers in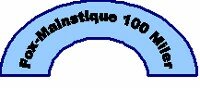 Michigan's Upper Peninsula. Unlike previous river trips, the 100-miler offers the chance to experience the outdoors almost completely independent from outside influences. This provides even the most experienced canoeist a challenge. In addition, the 100-miler takes more out of camp planning, and is only available with pre-camp arrangements.
Also See:>> CCB Summer Camp | Provisional Camp | Ranch Hand Summer Camp | Yucca Trail